Matthias Walkner from Red Bull KTM Factory Racing wins Dakar Rally
Schlemmer-sponsored rally team is the overall winner of the 2018 Dakar Rally
Motorcyclist Matthias Walkner of the Red Bull KTM Factory Racing Team has won the 2018 Dakar Rally. This year, the winner of the motorcycle category will once again come from the rally team sponsored by the Schlemmer Group. The Austrian Walkner – second in the previous year – finished the 14th and final stage of the most famous off-road race in eighth place and thus secured a fiercely contested overall victory. His team-mate Toby Price finished second in the final stage, an impressive third place in the overall standings.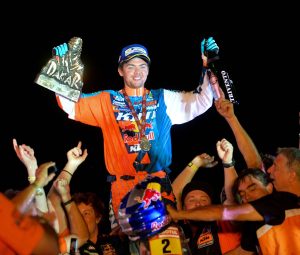 The Dakar Rally was a resounding success for the team which has been wearing the Schlemmer logo since 2017. Matthias Walkner was overwhelmed after his win: "It's unbelievable – I can't describe how it feels. This year's Dakar has been so difficult, easily the toughest rally of my career. Luckily the tactics worked out and I'm here at the end now as the winner and it feels unreal. Thank you to my team and everyone that has supported me – we did it!"
At this year's 40th edition of the Dakar Rally, Walkner has shown a masterly performance, confirms Schlemmer CEO Josef Minster. "His victory was made possible by driving intelligently with the right balance between speed and flawless navigation," said Minster in his analysis. "By reaching the finish line of the final stage, he was able to celebrate his well-deserved victory and historic achievement," continued Minster.
Minster is also full of praise for the collaboration with the team: "We are delighted with the way the riders have again performed at this year's Dakar Rally. This also shows that our cooperation with the KTM Factory Racing Team works extremely well. Of course, we are proud to see our logo on the motorcycles of the victorious riders," says Minster.
Each year in January, the Dakar Rally is all about winning the most famous off-road race in the world. This year, the world's best motorcyclists rode almost 9,000 kilometres through Peru, Bolivia and Argentina.
About Schlemmer
The Schlemmer Group is a global technology expert, which has focused on the development and production of highly specialised synthetics and metal solutions. Building on 60 years of experience in cable protection, the group of companies headquartered in Upper Bavaria has become one of the leading and most comprehensive value added providers, supporting its clients as an intelligent consulting and service partner. In addition to the core Automotive business area, the Schlemmer Group also pursues activities in a wide range of other sectors with its Industry business area.
Over 60 sites throughout the world, almost 30 production plants at strategically important locations and a mobile factory enable the company to simultaneously implement global strategies and enjoy a local presence in development production and sales. The company's nearly 3,000 employees generated consolidated net sales of EUR 298 million in 2016.
Further information: www.schlemmer.com