In his role as press officer of the Bundesverband mittelständische Wirtschaft e.V. (BVMW) in Bavaria, Achim from Michel gave a statement in July on the energy demand in the main news of Swiss television SRF (Tagesschau). Background: The shutdown of the oldest German nuclear power plant in Grafenrheinfeld, Bavaria. A clear position of the BVMW, which supports the energy generation and a sustainable, clean supply of electricity, of course: "Electricity must remain affordable to ensure the competitiveness of the German economy in the future." Also in the interview: Albert Duin, who represented as an entrepreneur and state chairman of the FDP Bavaria his opinion.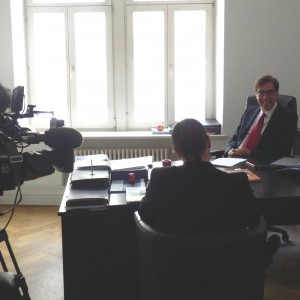 Intelligent storage solutions and thus an offensive in research and development in Germany are, according to Achim von Michel, essential building blocks for a successful energy turnaround. "It is not the core question, however, whether electricity is being laid above ground or underground, but how is it possible to produce electricity in the future as decentrally as possible and only as centrally as necessary and how can we achieve an intelligent storage of regenerative, But not continuously available energy depots, "said Achim von Michel.
The full article in the Swiss Tagesschau (600.000 viewers) can be found HERE.